Voice of Students
Message from Students
~ Your Hitotsubashi 日本語(Nihongo) Experience ~
---
Stories from Alumni
~ What our alumin say about 日本語(Nihongo) Experience ~
If you had told me back in my first year of high school, when I HAD to study Japanese for an entire year, that in my final year of university I would actually study in Japan for a year, I'm sure I'd have found it extremely hard to believe. Foreign language education forms part of the compulsory education system in Australia; what language you study depends on what school you attend but in my case, it was Japanese. To be completely honest, I hated it at first and I thought, "I'm never going to use this in the future, anyway." However, my teacher at the time introduced me to a lot of Japanese pop culture including J-Pop, J-Dramas and Japanese variety TV shows. My determination to improve my Japanese proficiency stemmed from the fact that I had become completely hooked on Japanese pop culture. After graduating high school, I decided to major in Japanese at the University of Queensland. In my final year, wanting to improve my Japanese even more, I applied to the study abroad program and was given the opportunity to study at Hitotsubashi for one year.
As the main purpose of my exchange was to improve my Japanese, I enrolled in the subjects that were part of the Japanese Language Education Program. I took courses in speaking, reading comprehension, and writing at the advanced level; in addition, I also took courses on grammar and courses where I would learn about economics in Japanese. It was through the variety of learning materials and opportunities for group work in class that I was able to increase my exposure and use of Japanese. Furthermore, the guidance and support of the instructors was excellent. In just one year, I feel my Japanese definitely improved.
I returned to Australia briefly and enrolled in a masters degree in Japanese interpreting and translation. Had I not studied at Hitotsubashi, I don't think I would have had sufficient proficiency to obtain my masters degree. Currently, I am living in Japan once again where I work as a translator at a law firm in Tokyo. The work is difficult, but I am able to make use of the skills I cultivated during my time at Hitotsubashi (and during my graduate studies), and I truly feel how valuable an experience studying at Hitotsubashi was.
---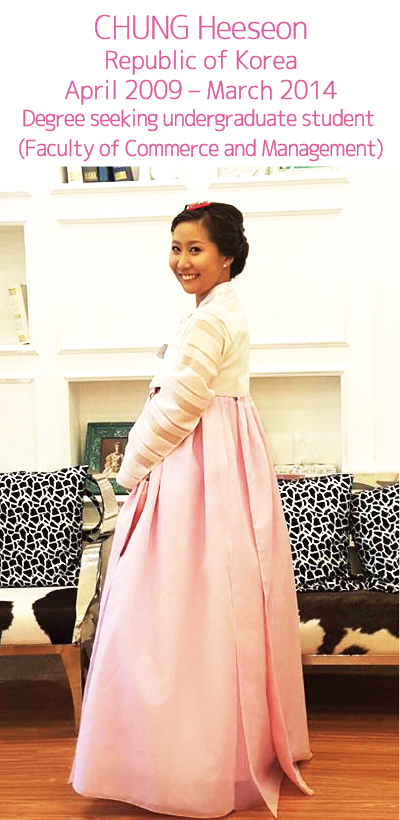 I was born and raised in South Korea. I attended a school which specialized in preparing students for the university entrance exams. I decided that in order to realize my dream of "Creating dramas at a Japanese TV station," I needed a degree from a Japanese university, and so studying in Japan became my aim.
For me, enrolled as an undergraduate student, language did not cause such great difficulties. Of course, studying by myself in my own country and actually taking the same classes as and competing with Japanese students were two different things. Hitotsubashi University's Japanese-language classes were what enabled me to bridge this small "gap." I remember the essay-writing classes particularly clearly. I learned tricks to use when my thoughts did not appear to be transmitted accurately, even though there was no obvious problem with the grammar – how to write in order to make myself and my thoughts understood more easily by people from different backgrounds.
In addition, while Hitotsubashi University of course provides an ample range of Japanese-language classes for international students, the teachers and the other students on the course were also thoughtful and considerate of international students, so there were no cases of students becoming unable to keep up with classes due to a language barrier. Of these classes, Hitotsubashi University's characteristic seminars still remain in my memory even today as an extremely happy and instructive experience.
In seminars, around ten students and the teacher unite to study their specialist field. In particular, in my seminar group, there were not only degree-seeking students like me; we were also joined by several one-year exchange students. People might tend to think that the presence of many international students, who do not speak perfect Japanese, would affect the pace of the class, but thanks to the positive attitude of the teacher towards cultural exchange and the open atmosphere between the students, the understanding of the latter instead deepened, and we were able to experience the cultures of various countries at once, all while remaining in Japan.
My experiences at Hitotsubashi University inspired me to realize that I wanted to stay in Japan, whatever it took. My daily life now is extremely fulfilling, carrying out business activities for a Japanese company. Thanks to my experiences supporting international students as a degree-seeking student during my university days, I am now good at coaching those who joined my company after I did; in particular, I have developed into someone who can exert myself to resolve the issues faced by foreign employees who find it hard to get used to the organization or have various worries.
Moreover, the teachers and friends whom I was lucky enough to meet at Hitotsubashi University still support me in many ways. Furthermore, the broad world and variety of perspectives which I was able to experience at that time led to the development of a flexible way of thinking which I am sure that I would not have held if I had gone on to university in Korea.
I still love Hitotsubashi University: when I am worried about something, I go there for a visit, ask the advice of my seminar teacher, or think by myself as I walk around the university campus (even though it takes me more than one hour to get there by train from where I now live!). Hitotsubashi University, which has become such a major presence in my life, is the place where I can encounter high-quality education, diverse values, and precious friends.