HGP Seminar
Hitotsubashi University Global Education Program (HGP)では、英語による公開セミナーを開催します。
一般の方、および一橋の学生であれば、誰でも参加できます。事前申込は不要です。皆様のご参加をお待ちしています。
This seminar is open to the public and all Hitostubashi University students and conducted in English.
June, 26, 2023
Know what you want, recognize your unique strengths and excel in both Japan and internationally
Speaker
Humphery Chen Yong Hui(Senior Director of Global Strategy & Business Alliance
INTAGE Group)
---
June 9, 2023
Navigating SX -The Sustainability Experience in the New Social Fabric
Speaker
Angela Ortiz Pettas(Author,CSR professional,Public Speaker,Entrepreneur,Marketer,Fitness Enthusiast)
---
December 5, 2022
Adventures in Cross Cultural Communication:20 Years of Building a Career in Japan(449KB)
Speaker
Craig Humble (Executive Director Credit Agricole Securities)
---
November 14, 2022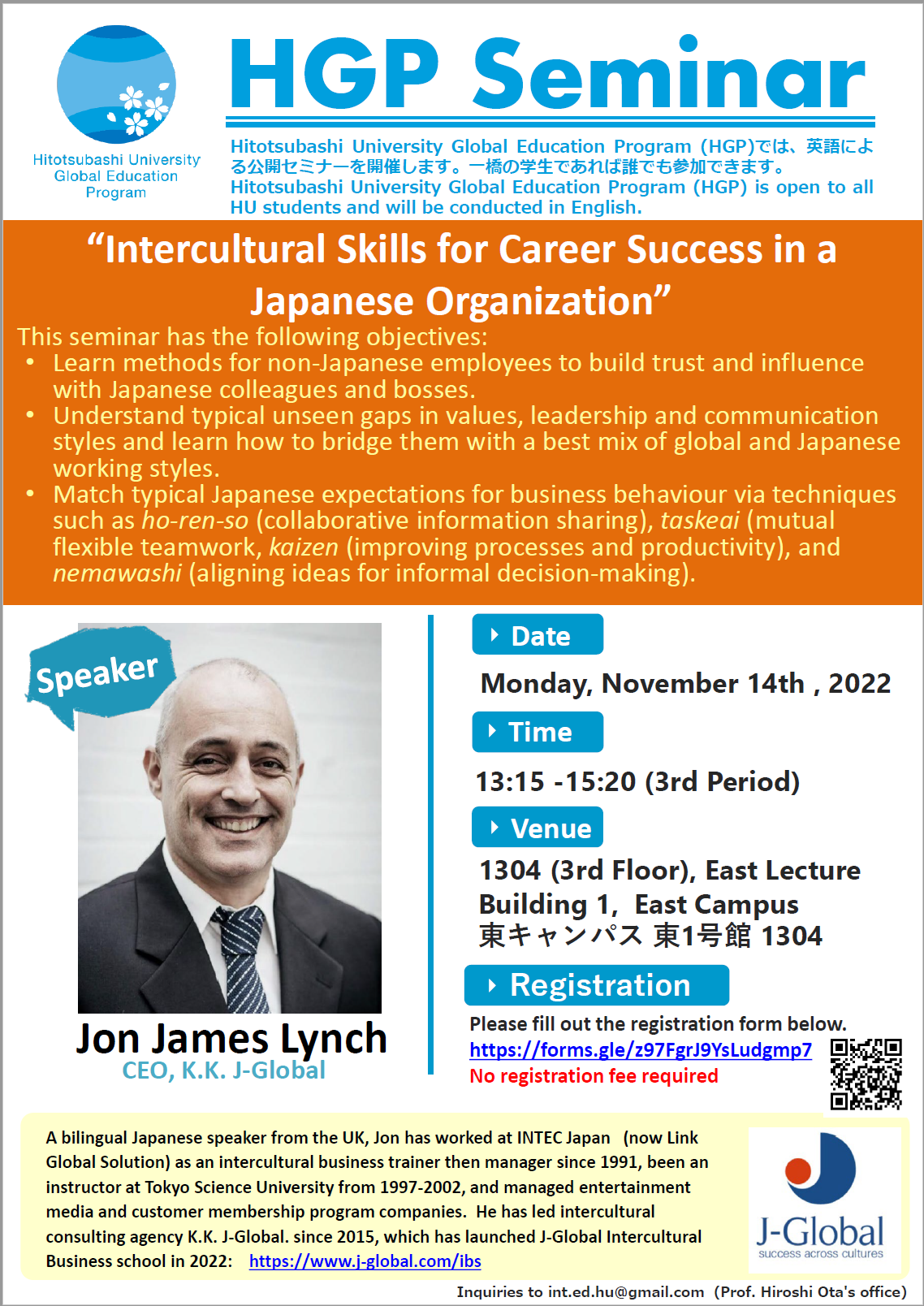 Intercultural Skills for Career Success in a Japanese Organization (534KB)
Speaker
Jon James Lynch (CEO, K.K. J-Global)
---
June 27, 2022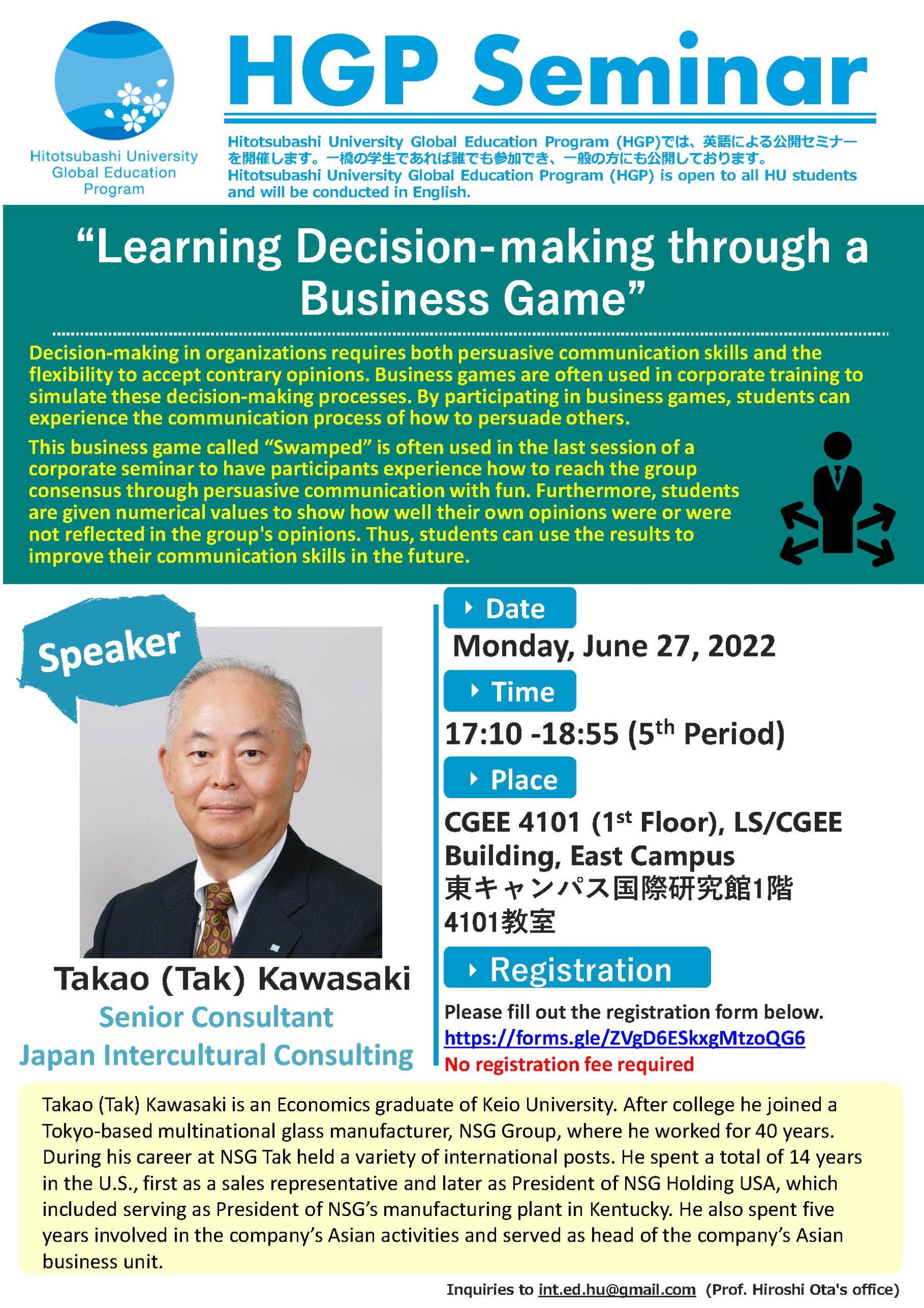 Learning Decision-Making through a Business Game (560KB)
Speaker
Takao (Tak) Kawasaki (Senior Consultant, Japan intercultural Consulting)
---
November 22, 2021
The Challenges of Globalization for Japanese Retail Companies (500KB)
Speaker
Yohei Tezuka (Strategy Consultant at Nomura Research Institute)
---
December 2, 2019
Reporting on Natural Disasters on Online Media (327KB)
Speaker
Hitoshi Ogi (News Editor, J‐CAST NEWS)
---
July 5, 2019
Introduction to Intercultural Leadership Skills (471KB)
Speaker
Jon James Lynch(CEO, K.K. J-Global)
---
December 10, 2018
Key differences between Japanese and "global" working and communication styles -Intercultural business best practices- (763KB)
Speaker
Jon James Lynch(CEO, K.K. J-Global)
---
July 2, 2018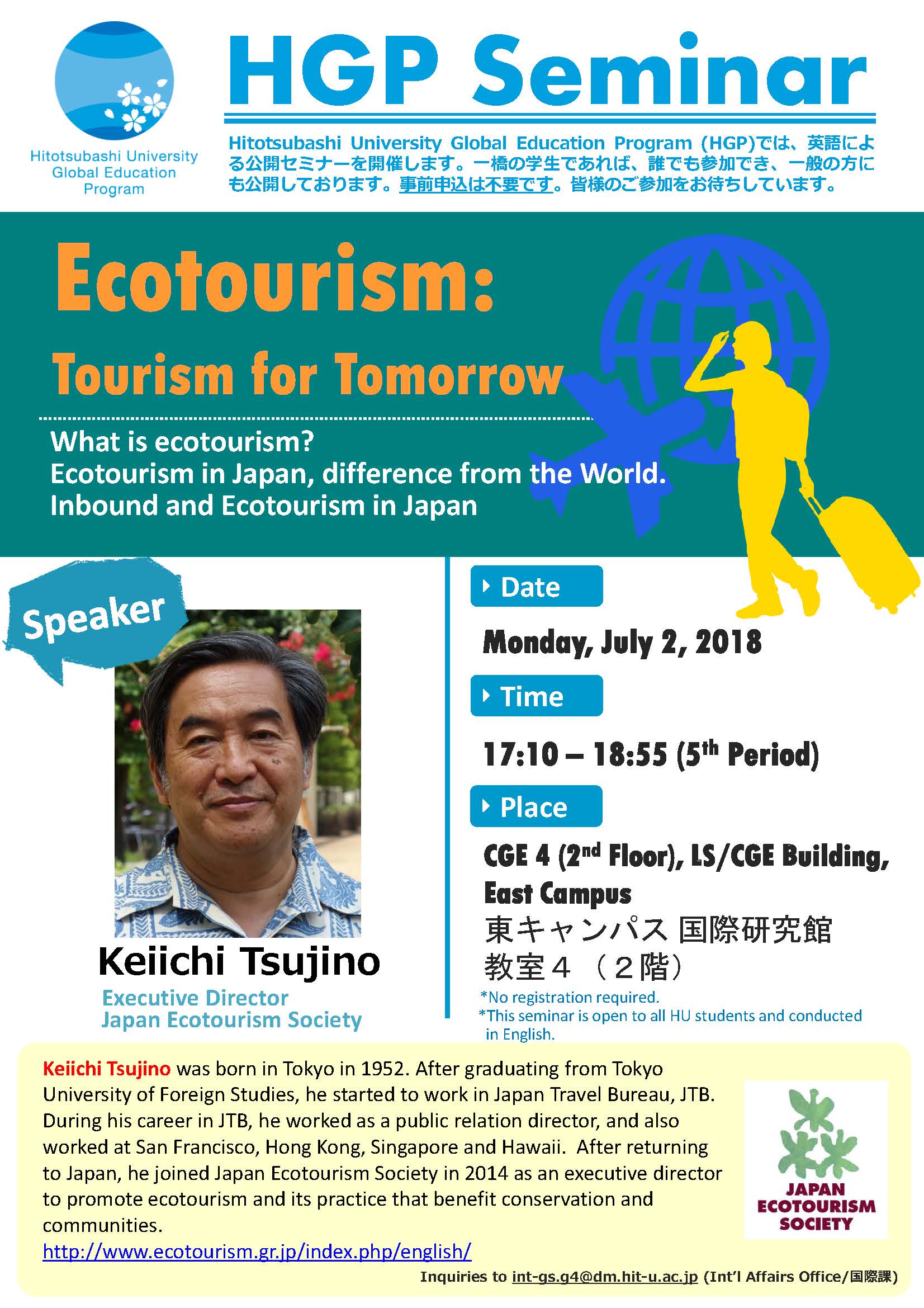 Ecotourism: Tourism for Tomorrow (666KB)
Japan Ecotourism Society promotes ecotourism and its practice that benefit conservation and communities. In this lecture, Mr. Tsujii shares his experience and knowledge of ecotourism in Japan, its differences from the world ecotourism, and future view of inbound ecotourism.
Speaker
Keiichi Tsujii (Executive Director, Japan Ecotourism Society)
---
December 11, 2017
Englishnization: Exploring Rakuten's Language Transformation (636KB)
Rakuten's Englishnization program began in 2010 with a declaration that English would be Rakuten's official corporate language. This lecture will explore past, present, and future challenges in Rakuten's Englishnization program, with an emphasis on the cultural impact of large scale organizational change.
Speaker
David Kelver (Vice General Manager, Education Business Department, Rakuten, Inc.)
---
June 26, 2017
Differences among Traditional Japanese Companies, Foreign Companies, and Startups (642KB)
Based on his career and experiences, he will talk about differences in business among traditional Japanese companies, foreign companies, and startups. Particularly, his lecture will focus on the current situation and opportunities of Japanese startups.
Speaker
Masato Taira (CEO, The COO Inc. Graduated from Hitotsubashi University in 1997.)
---
May 17, 2017
Naoya Hatakeyama and the Photographic Representation of Post-Tsunami Landscapes (529KB)
In this lecture Dr. Marco Bohr will look at the work of the widely regarded photographer Naoya Hatakeyama who emerged as a quasi-spokesperson for photographers depicting the aftermath of 3.11. The lecture will investigate the moral and ethical dimensions to Hatakeyama's work and compare it to other photographic movements.
Speaker
Dr. Marco Bohr (Postgraduate Programme Director for the Arts at Loughborough University)
---
December 14, 2016
The Invisible Voice of the Female Teacher in Shindô Kaneto's Children of Hiroshima and Sekigawa Hideo's Hiroshima. (703KB)
In the post-occupation period, early Japanese atomic bomb films were made by independent studios. Through close analysis of film texts, Mr. Kataoka explores how these films construct the image of the innocent hibakusha.
Speaker
Yusuke KATAOKA (PhD candidate at Hitotsubashi University)
---
July 12, 2016
Stockholder or Policyholder? To Maximize Our Stakeholders' Profit  (635KB)
What is a LIFE INSURANCE COMPANY?
Mr. Masai elaborates inside of life insurance industry through its unique and industry specific management system called "mutual company".
Speaker
Yoshitaka MASAI (FALIA)
---
July 11, 2016
Honda Pump's Challenge for Global Business (688KB)
Honda Pump takes on the challenge that other pump makers shy away from. Mr. Ryuzojiexpands on his corporate strategies for diversifying human resources and his aggressive management for the 21stcentury global business structure.
Speaker
Kensuke RYUZOJI (President & CEO HONDA PUMPS Honda KikoCo., Ltd.)
---